About Kate Butchart - textile designer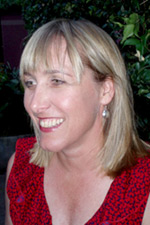 Kate Butchart is a textile artist with over 20 years' experience, whose flair for chic, fresh, contemporary design is reflected in her unique portfolio of work.
Kate has designed for such household names as Donna Karan, Ken Done and Jenny Kee. She has created bed linen ranges for market leaders Sheridan, Actil, David Jones, Myer, Pillowtalk, Woolrest, Billy, Target, K Mart and Big W.
Regular travel to design centres, including New York and Paris, to gather market intelligence, colour forecasts and fashion trends, keeps her focus up-to-the-minute. Kate's work is also inspired by colour, art, found and collected objects and the beauty of the natural landscape.
A contemporary sensibility and design excellence are
at the forefront of every job.
Kate has extensive experience in the management of entire brand ranges - from fulfilling a design brief, through liaison with engravers to product development, quality assurance and marketing of the final product. This enables her to put together house brand ranges to achieve brand integrity and fulfil specific briefs.
Having spent many years hand painting master artwork, Kate now works primarily with the latest digital graphic technology. This allows her more flexibility to adjust and enhance finished art to clients' individual specifications. Although, when the need arises, Kate still enjoys creating bespoke, hand drawn and coloured images.
Kate lives and works in Sydney, Australia, creating beautiful, elegant, modern designs for both national and international clients.